5 Letter Words That Starting With R - Word Finder
This is an online free word finder tool that helps the user to find all relevant possible 5 letter words that starting with r that you have typed on the input box or search for. It will show you the words list in the best valid scorecard orders.
Words List Search for "r????" Text
List of all 5 Letter Words That Start With R

River

Round

Range

Rogue

Raise

Ratio

Rhyme

Relay

Refer

Realm

Revel

Resin

Reply

Rally

Roast

Reign

Royal

Rigid

Reset

Rebel

Rouge

Roted

Rider

Relic

Rouse

Radio

Robot

Radar

Rural

Rival

Roost

Retro

Riven

Rigor

Rapid

Racer

Raven

Ratel

Rhino

Recur

Rebut

Razor

Raita

Renew

Reify

Rover

Ramen

Rotor

Repay

Rabid

Reiki

Rondo

Renal

Recto

Rules

Ruche

Roger

Refit

Rerun

Rebid

React

Reuse

Rheum

Rumor

Retch

Rebec

Roach
Welcome to Word Finder
It is very easy to find the combination of words from letters. Word Finder tool allows you to generate combinations of words from 5 letter words that starting with r. This word generator tool generate all possible words from the character R.
The word search tool shows the list of all possible words for letter R in the order of high score valid words, which means, that the words which are most valid and relevant for R in words dictionary will appear first in the list.
How word finder tool work and how to generate random 5 words for R letter.
It is very easy to work with the Word Finder tool, the user has to type the text pattern r???? in the input box to create scrabble words. When pressed in its search button, it will show the list of all types of random scrabble words 5 letter words that starting with r with high priority valid words.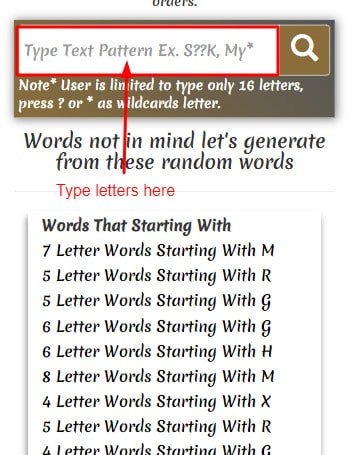 Please check the image shown on the left side it will help you to understand how a word finder helps to search 5 letter words also here are some examples how to type 5 letter pattern to get the best scrabble word finder results -
1- Find 4 letters words starting with S- Type S??? and search. Example- 4 letter words starting with S
2- Find 5 letters words - Type ????? and search.
3- Find 5 letters words ending with F- Type ????F and search.
4- Find words starting with MY- Type MY* and search.
5- Find words ending with AD - Type *AD and search.
6- Find words starting with S, M in middle and ending with D- Type

s?m?d

and search
---
When should I use the Word Finder Tool?
You can mainly use a word generator or word finder tool for educational purposes. Nowadays, it has been seen in the trend that users use it to win scrabble and WWF games.
It helps in finding high-scoring matching words. Users can also easily find vocabulary from here for any crossword puzzle answer.