6 Letter Words That Ending With M - Word Finder
This is an online free word finder tool that helps the user to find all relevant possible 6 letter words that ending with m that you have typed on the input box or search for. It will show you the words list in the best valid scorecard orders.
Words List Search for "?????m" Text
List of all 6 Letter Words That End With M

System

Rhythm

Medium

Inform

Affirm

Redeem

Tandem

Bottom

Eponym

Esteem

Random

Asylum

Mayhem

Racism

Atrium

Schism

Reform

Emblem

Scream

Shalom

Plenum

Nudism

Bedlam

Victim

Diadem

Muslim

Anthem

Phlegm

Ashram

Passim

Truism

Pogrom

Pablum

Anonym

Balsam

Sodium

Lyceum

Jetsam

Condom

Monism

Sexism

Sacrum

Gotham

Antrum

Osmium

Vellum

Chisum

Rectum

Hansom

Lissom

Taoism

Napalm

Fandom

Webcam

Tedium

Ibidem

Stroam

Lingam

Mortem

Engram

Salaam

Disarm

Egoism

Ho-hum

Gollum

Graham

Logjam
Welcome to Word Finder
It is very easy to find the combination of words from letters. Word Finder tool allows you to generate combinations of words from 6 letter words that ending with m. This word generator tool generate all possible words from the character M.
The word search tool shows the list of all possible words for letter M in the order of high score valid words, which means, that the words which are most valid and relevant for M in words dictionary will appear first in the list.
How word finder tool work and how to generate random 6 words for M letter.
It is very easy to work with the Word Finder tool, the user has to type the text pattern ?????m in the input box to create scrabble words. When pressed in its search button, it will show the list of all types of random scrabble words 6 letter words that ending with m with high priority valid words.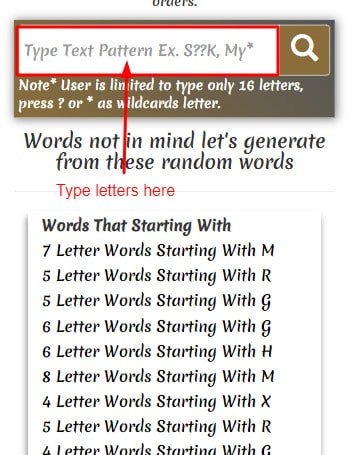 Please check the image shown on the left side it will help you to understand how a word finder helps to search 6 letter words also here are some examples how to type 6 letter pattern to get the best scrabble word finder results -
1- Find 5 letters words ending with S- Type ????S and search. Example- 5 letter words ending with S
2- Find 6 letters words - Type ?????? and search.
3- Find 6 letters words ending with F- Type ?????F and search.
4- Find words starting with MY- Type MY* and search.
5- Find words ending with AD - Type *AD and search.
6- Find words starting with S, M in middle and ending with D- Type

s?m?d

and search
---
When should I use the Word Finder Tool?
You can mainly use a word generator or word finder tool for educational purposes. Nowadays, it has been seen in the trend that users use it to win scrabble and WWF games.
It helps in finding high-scoring matching words. Users can also easily find vocabulary from here for any crossword puzzle answer.