Words Ending In Ex - Word Finder
This is an online free word finder tool that helps the user to find all relevant possible words ending in ex that you have typed on the input box or search for. It will show you the words list in the best valid scorecard orders.
Words List Search for "*ex" Text
List of all Words Ending In Ex

Complex

Index

Vex

Flex

Reflex

Ex

Vortex

Rex

Vertex

Dex

Perplex

Hex

Duplex

Trex

Convex

Alex

Codex

Quex

Multiplex

Latex

Ilex

Qex

Simplex

Intersex

Intex

Pyrex

Circumflex

Mex

Essex

Bex

Triplex

Cybersex

Drex

Silex

Unisex

Anex

Forex

Rolodex

Rolex

Googolplex

Sussex

Pex

Shex

Kex

Carex

Kleenex

Coannex

Perspex

Neocortex

Retroflex

Unsex

Connex

Lurex

Quadplex

Yex

Desex

Culex

Remex

Spinifex

Cerebral cortex

Glycemic index

Gag reflex

Windex

Tex mex

Inferiority complex

Crex

Regex
Welcome to Word Finder
It is very easy to find the combination of words from letters. Word Finder tool allows you to generate combinations of words from words ending in ex. This word generator tool generate all possible words from the character *ex.
The word search tool shows the list of all possible words in the order of high score valid words, which means, that the words which are most valid and relevant for letter in words dictionary will appear first in the list.
How word finder tool work and how to generate random words.
It is very easy to work with the Word Finder tool, the user has to type the text pattern in the input box to create scrabble words. When pressed in its search button, it will show the list of all types of random scrabble words with high priority valid words.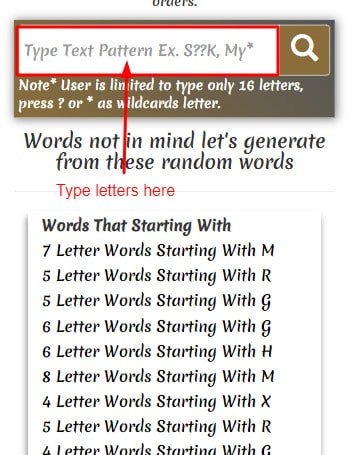 Please check the image shown on the left side it will help you to understand how a word finder helps to search words from letters also here are some examples how to type letter pattern to get the best scrabble word finder results -
1- Find 2 letters words - Type ?? and search.
2- Find 4 letters words starting with S- Type s??? and search. Example- 4 letter words starting with S
3- Find 7 letters words ending with F- Type ??????F and search.
4- Find words starting with MY- Type MY* and search.
5- Find words ending with AD - Type *AD and search.
6- Find words starting with S, M in middle and ending with D- Type

s?m?d

and search
---
When should I use the Word Finder Tool?
You can mainly use a word generator or word finder tool for educational purposes. Nowadays, it has been seen in the trend that users use it to win scrabble and WWF games.
It helps in finding high-scoring matching words. Users can also easily find vocabulary from here for any crossword puzzle answer.